Regular price
Sale price
$20.00 USD
Unit price
per
Sale
Sold out
Cleansers and Toners: 
All natural, moisturizing, purifying, exfoliating, promotes even and clear skin
Refresh:  Toner for Dry Skin 
 Ingredients:  Water, Witch Hazel, Himalayan Sea Salt, Aloe Vera, Grapefruit Oil
Renew: Toner for Normal Skin 
Ingredients:  Water, Witch Hazel, Himalayan Sea Salt, Lavender Oil 
Resurface: Toner for Oily Skin 
Ingredients:  Water, Witch Hazel, Himalayan Sea Salt, Aloe Vera, Apple Cider Vinegar, Key Lime Oil
Skin Firmer:
Apply morning and evening to clean, dry face and neck  for skin that looks its glowy best, every day
May help:
-strengthen skin
-improve elasticity and firmness
-moisturizing
-tightening 
-clear skin
-promote youthful skin
Ingredients: Sweet Almond Oil, Copaiba, Grapefruit, Frankincense, and Geranium 
Goddess Face Cream:
Instantly, it brightens, smooths, moisturizes, and helps combat dullness, so skin looks and feels silky-soft, fresh, and radiant
Reduces the appearance of wrinkles and redness, promotes youthful and moisture rich skin.  Strengthens skin and improves elasticity, firmness, and leaves your face looking soft and clear.
Ingredients: Organic Coconut Oil, Emu Oil, Evening Primrose Oil, Vitamin E, Lavender, Frankincense 
No Puff and Stuff : (around the eyes)
Leaves your eyes fresher, brighter, well-rested in the morning
Improves the appearance of fine wrinkles, and puffiness while adding moisture rich ingredients to help promote the appearance of tight, firm, healthy skin.
Ingredients: Organic Coconut Oil, Vitamin E, Aloe Vera, Lemon
Lighten Up:
Reduces the appearance of wrinkles, age and sun spots; promotes youthful, moisture-rich skin
Ingredients: MCT, Aloe Vera, Lavender, Lemon
Black to White - Charcoal Toothpaste:
You will fall in love with me!  I will whiten your teeth, wash away toxins, and taste delicious.  Yes, I am black but after you brush with me I will leave your pearly whites sparkling brighter than ever before.  
Ingredients: Organic Coconut Oil, Stevia, Baking Soda, Activated Charcoal, and Peppermint Oil
Cellulite Coffee Scrub:
Exfoliator to help improve the appearance of: Cellulite/Spider Veins/Wrinkles/Stretch Marks/Age Spots/dry and rough patches on face. 
Ingredients: Ground Coffee, Brown Sugar, Organic Coconut Oil, Extra Virgin Olive Oil, Ground Cinnamon, Grapefruit Oil 
TIP!  Follow up with our Goddess Cream
Luscious Lashes:
Lash Serum to help condition lashes and eye brows.
Ingredients: Sweet Almond Oil, Castor Oil, Vitamin E, Lavender
Grapefruit Goddess- Lip Oil:
Lip Moisturizer that softens your lips leaving it with a glowing shine without being sticky.  Your lips are going to love you for it. 
Ingredients: Grapeseed oil, jojoba oil, castor oil, vitamin e, grapefruit
Clear Skin- Brightens and smooths
Apply after you use the toner to promote clear, blemish free skin. Ingredients: Jojoba oil, Sweet Almond Oil, Lavender, Basil, Bergamot, Frankincense, Tea Tree
Tight
Ingredients: Coconut Oil, Oak Gall, Witch hazel
Holy Glow- Ultra Hydrating serum, improves the appearance of: fine lines, wrinkles, skin tone, and dry skin.   Brightens
Ingredients: Sweet Almond, Jojoba, Evening Primrose,  Vitamin E, Rose Hips, Lemon, Clary Sage, Ylang Ylang, Rosemary, Frankincense * Not safe during pregnancy
Cellulite Serum- increases blood flow, tightens and smoothes out the appearance of cellulite while providing a beautiful rich moisturize finish
Ingredients: MCT, Grapefruit, Cedarwood, Geranium, Cypress, Lemon
Detox Mask- Absorbs deep into the skin to pull out dirt and toxins, while hydrating, minimizing breakouts, and improving skin tone.
Ingredients: Shea butter, Argan Oil, Kaolin Clay (Rose), Bentonite Clay, Lemon, Peppermint oil
All NO CRAP IN IT products are: free of sulfates, phthalates, parabens, petrochemicals, mineral oil, silicone and talc; also free of synthetic fragrances and synthetic colors
View full details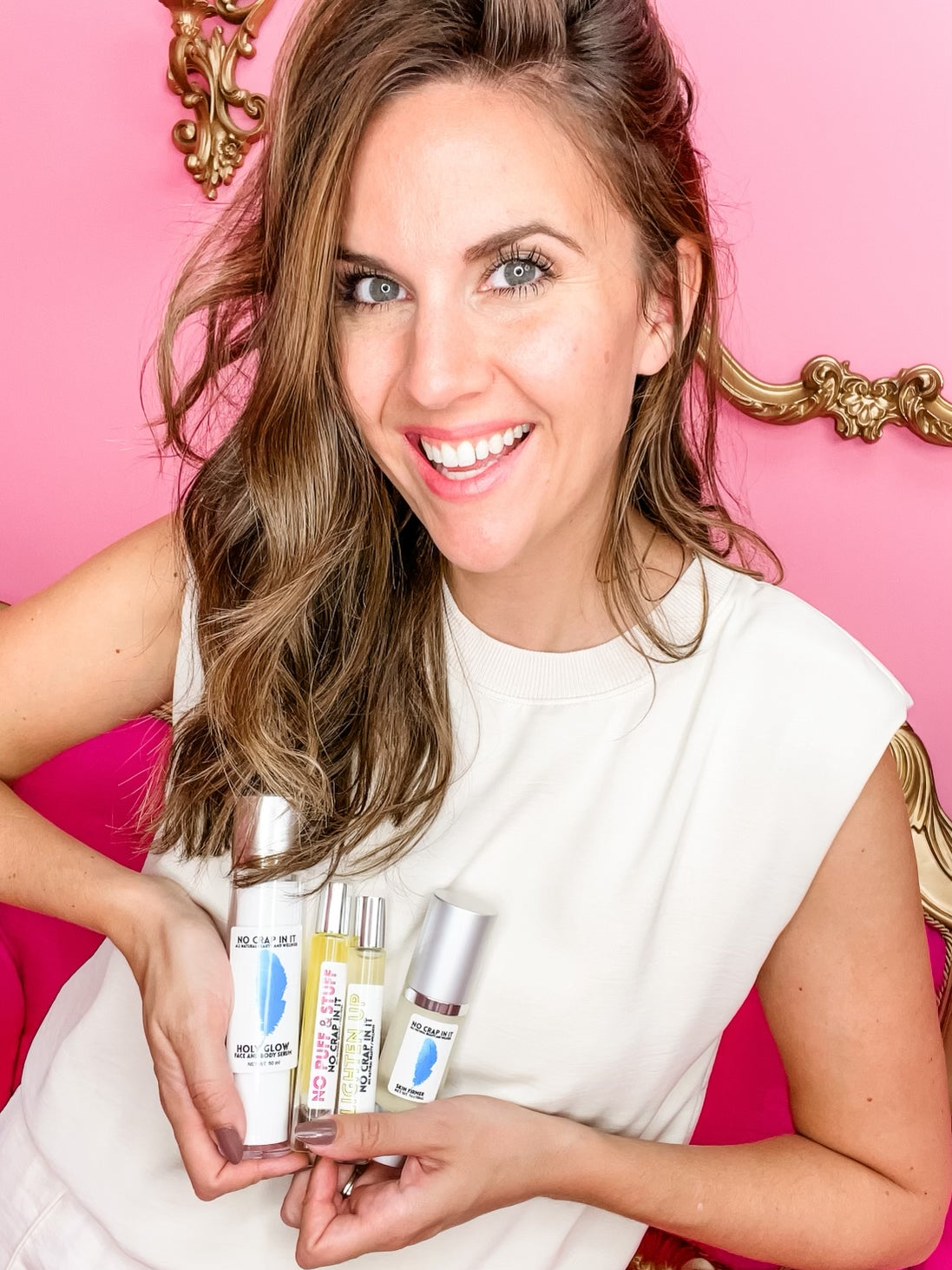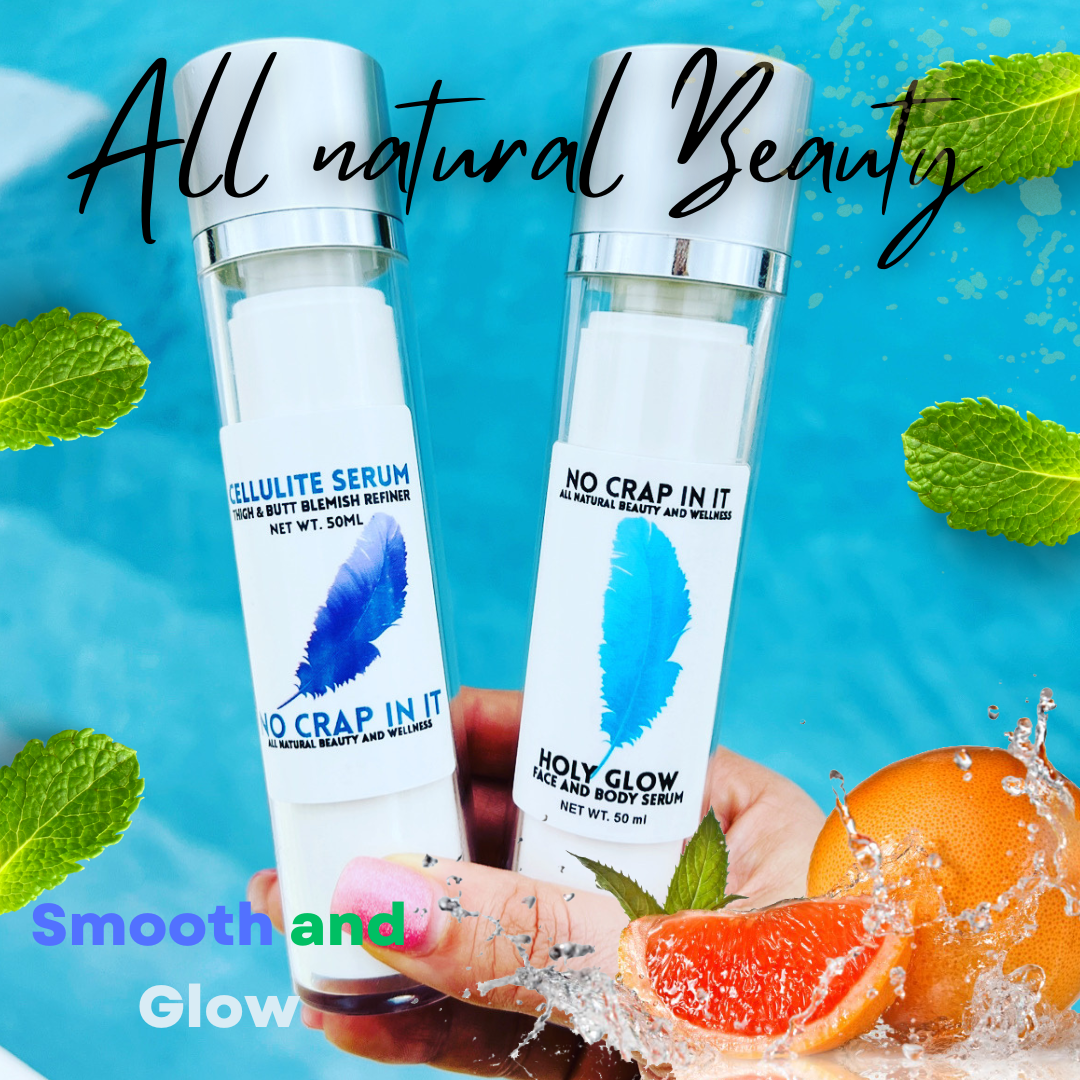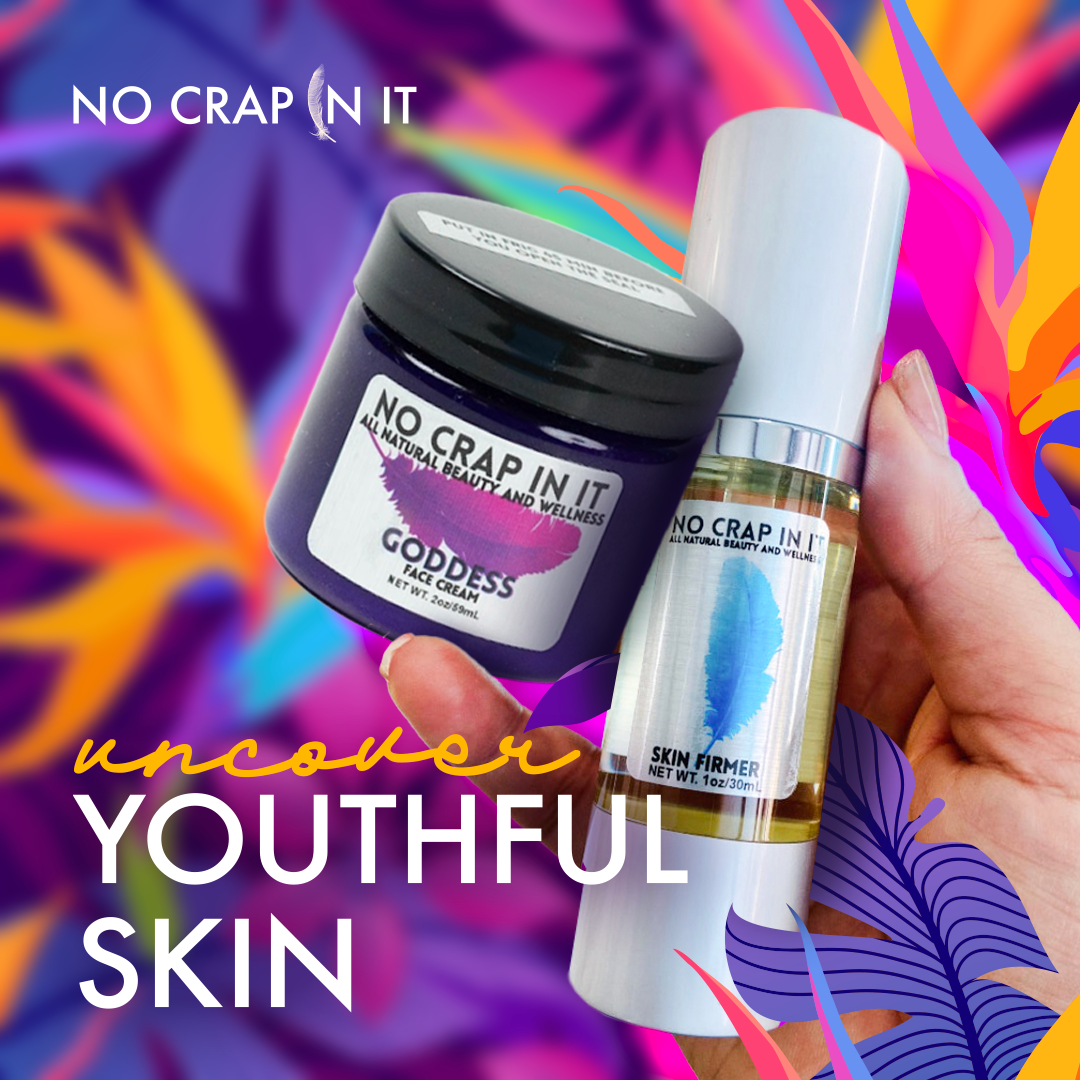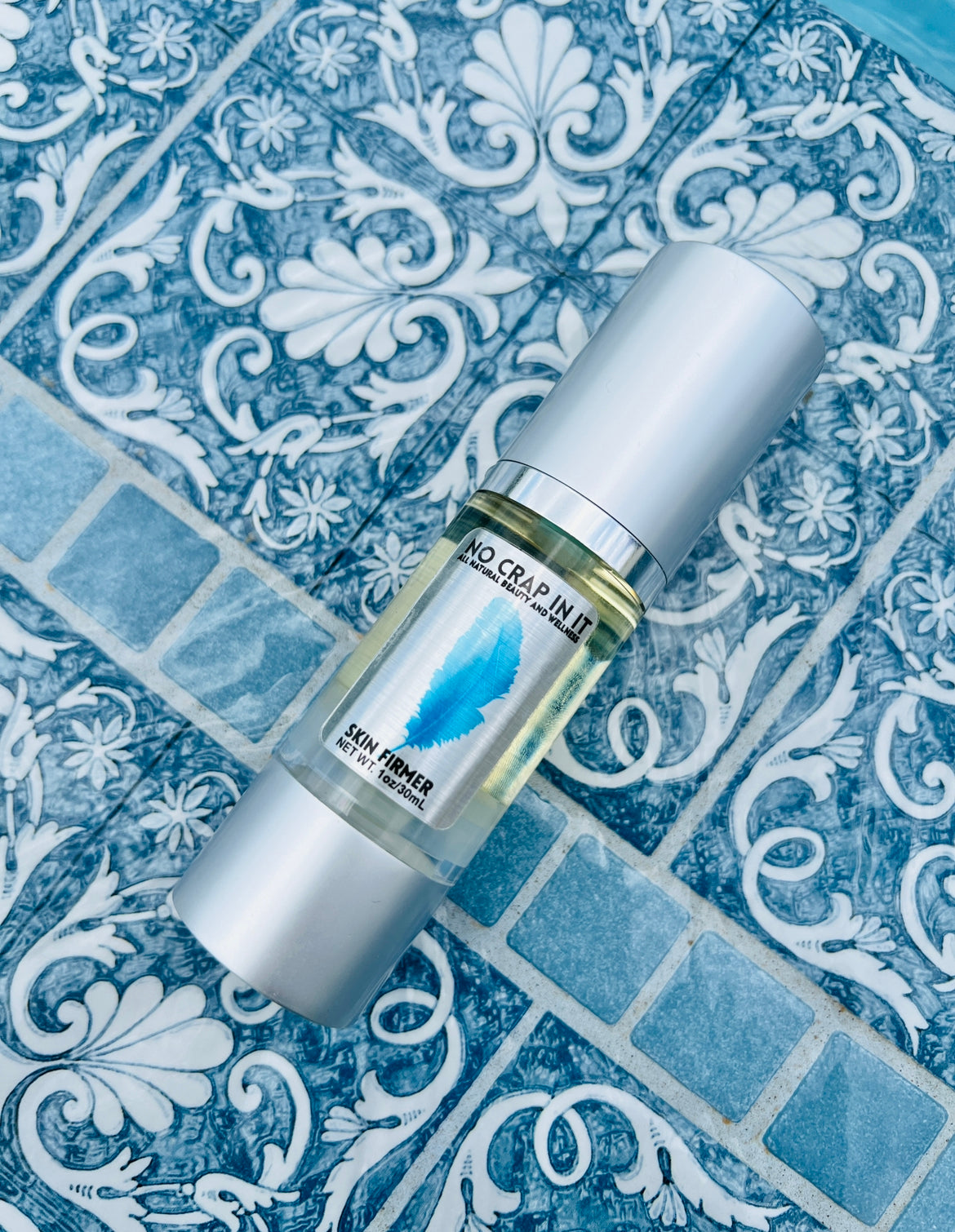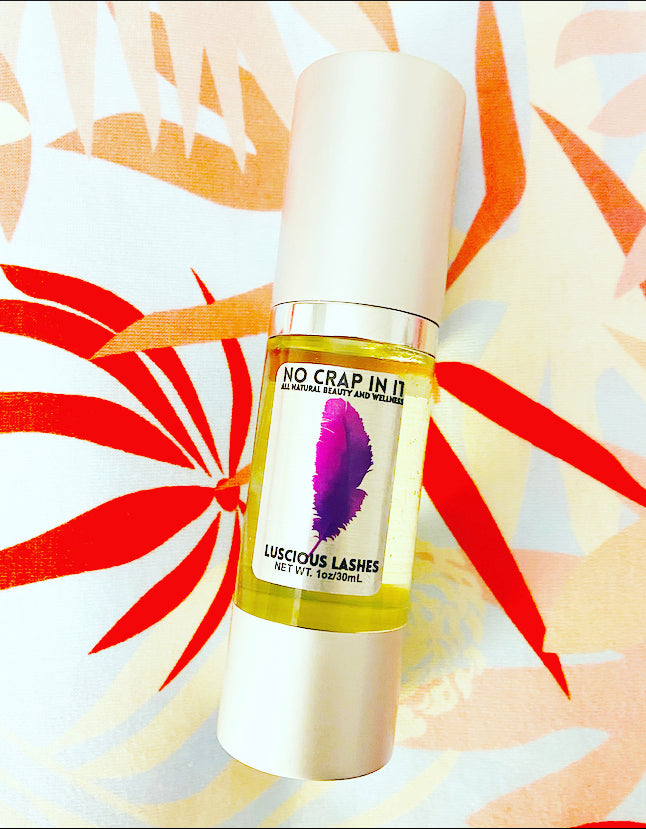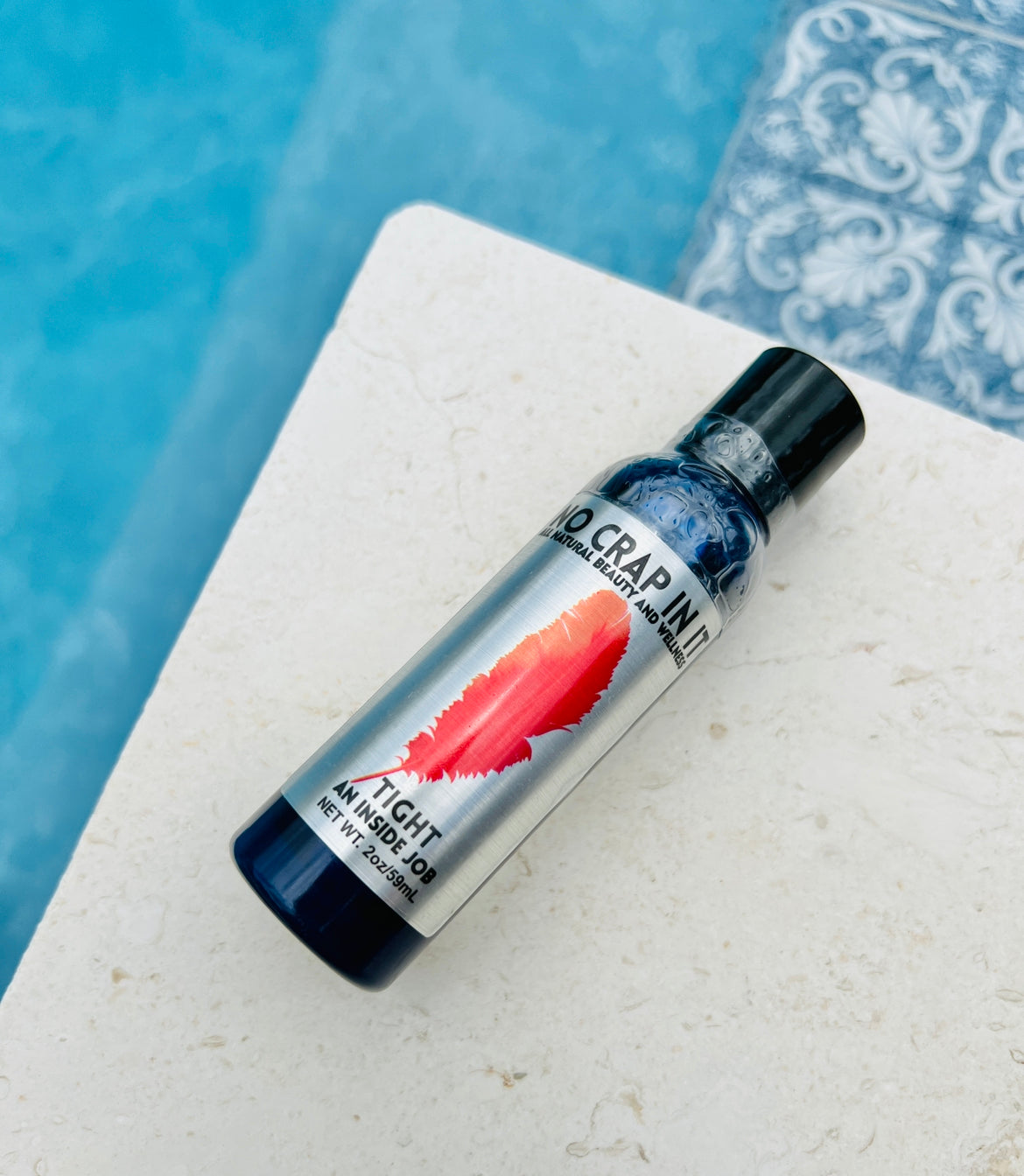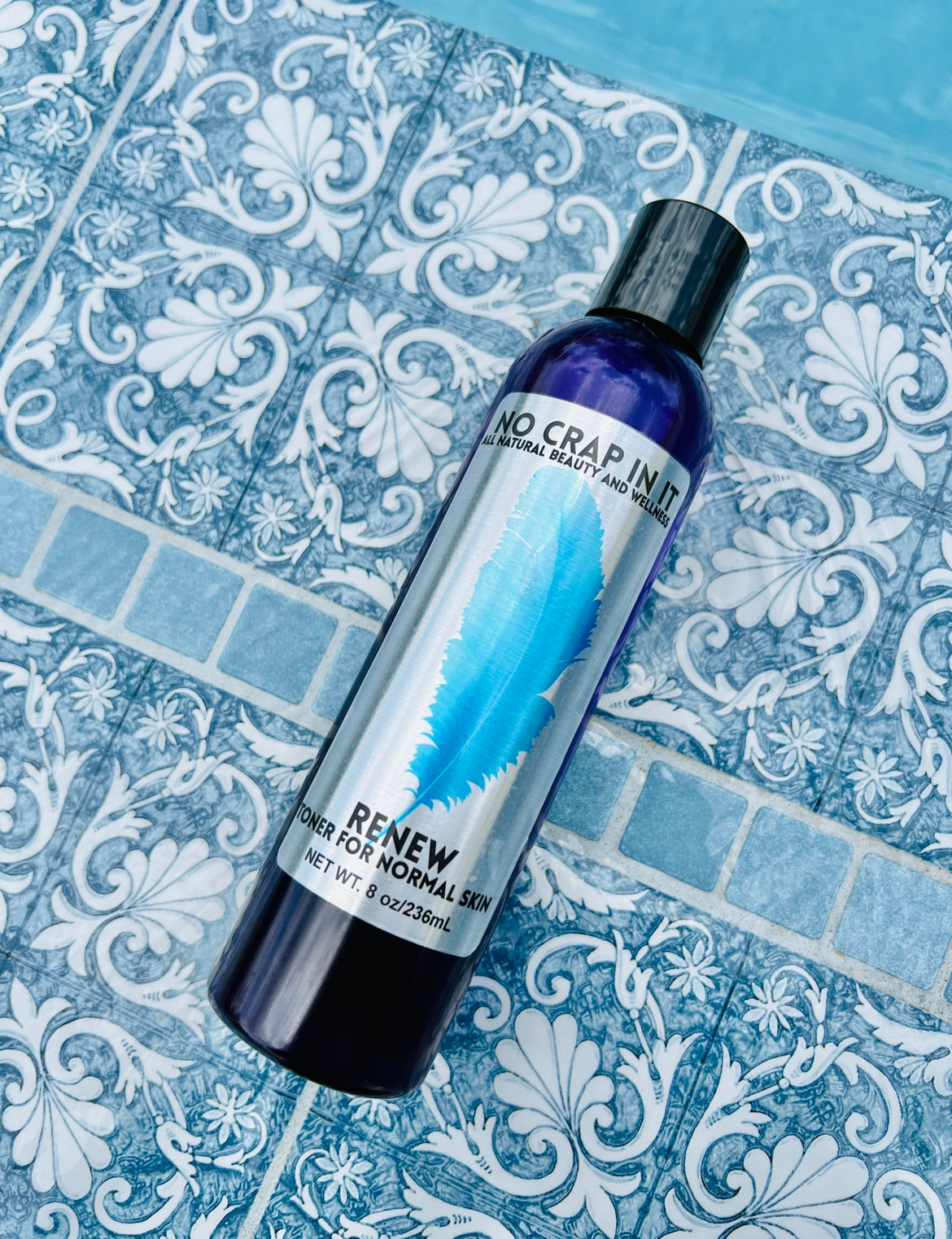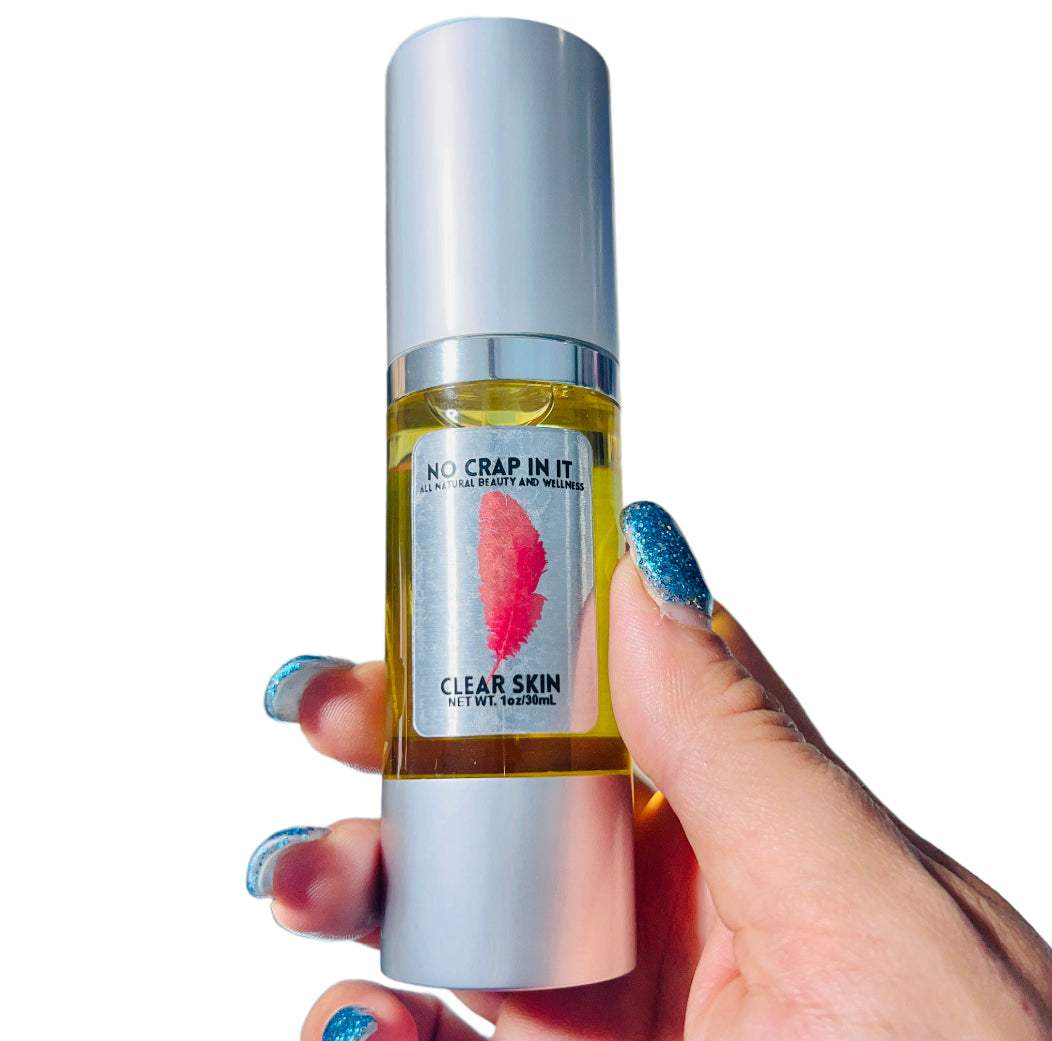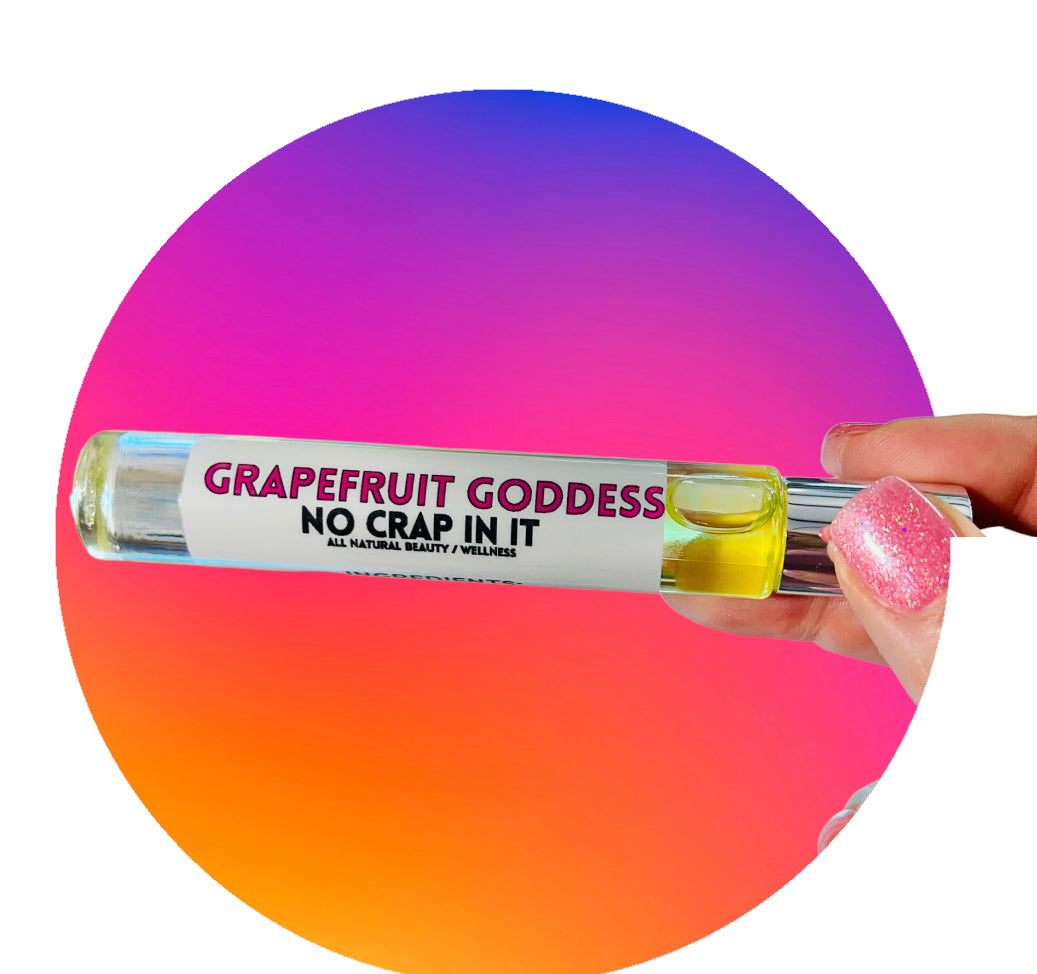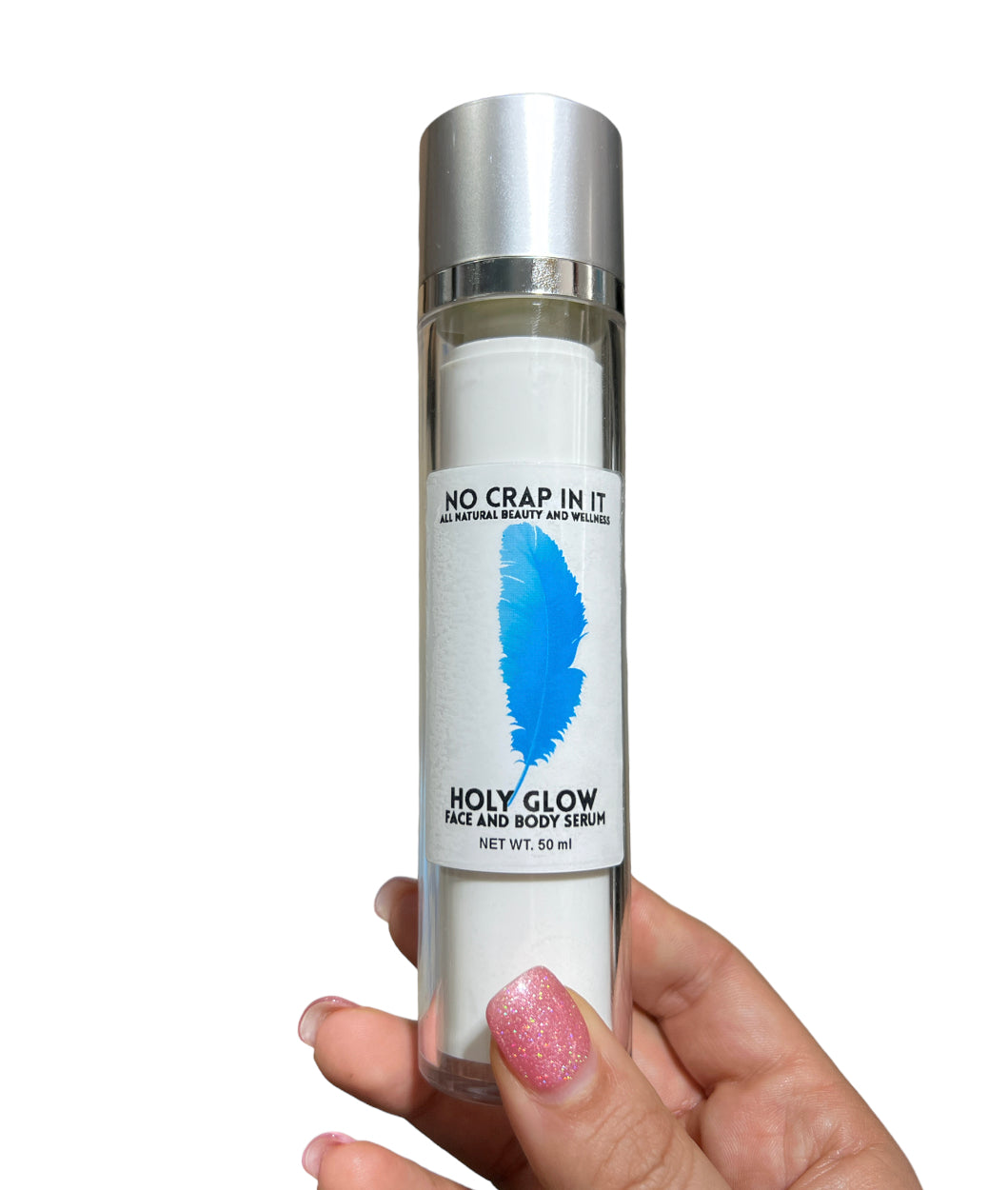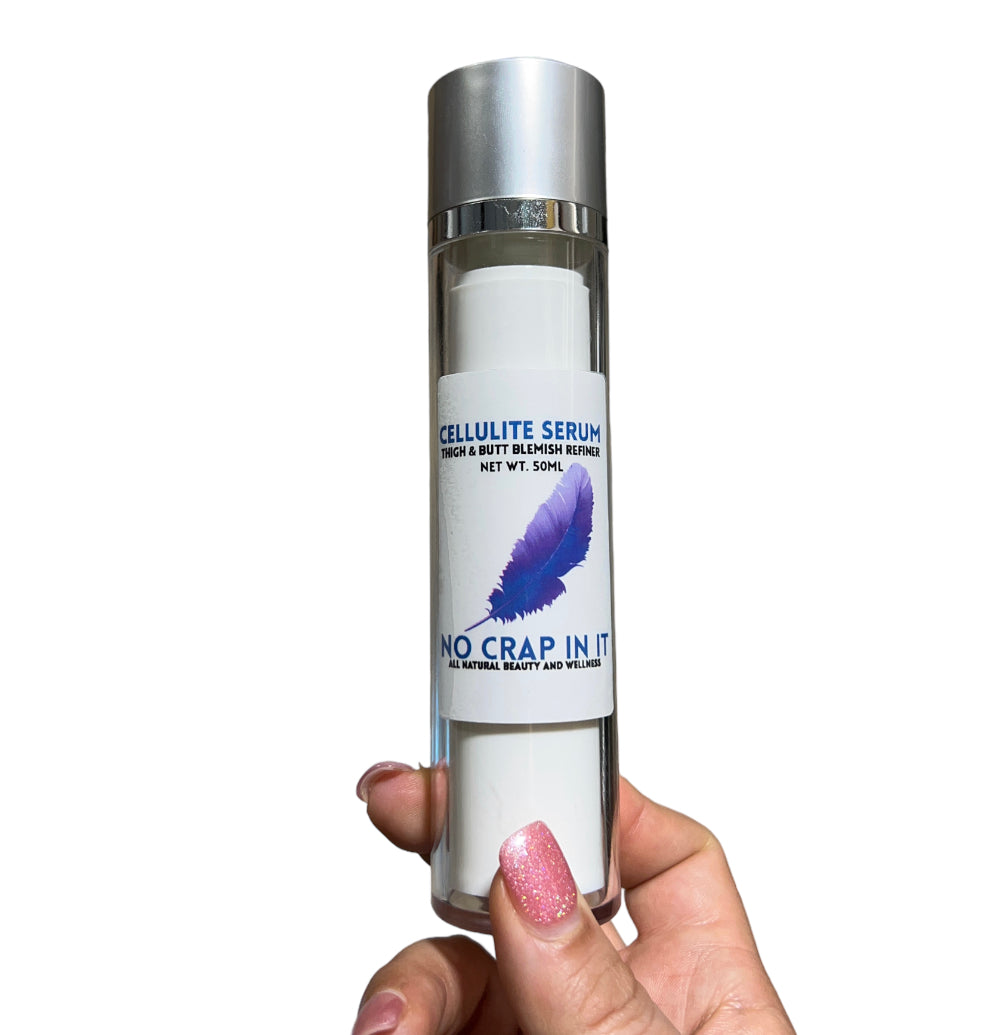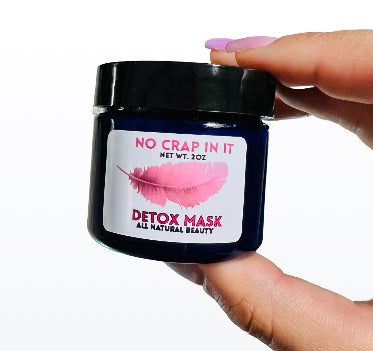 Great Product
I have been using it for about two weeks and I can already see my brown spots fading. Thank you so very much.
I believe
I take the following on a daily basis, kidney and liver, detox, fit, fatigue, Shroomy, revive. goddess and recovery. I am adding Magnesium cream (orange) upon receipt. I also use the following sprays extreme, intense, moisturizer along with rollers Happy head, No puff and stuff, extreme and intense. I love each and everyone.
No crap in it is amazing!
I have several products and there are amazingly good!!
Love
I love Holy Glow. It's nice to be able to use pure products.